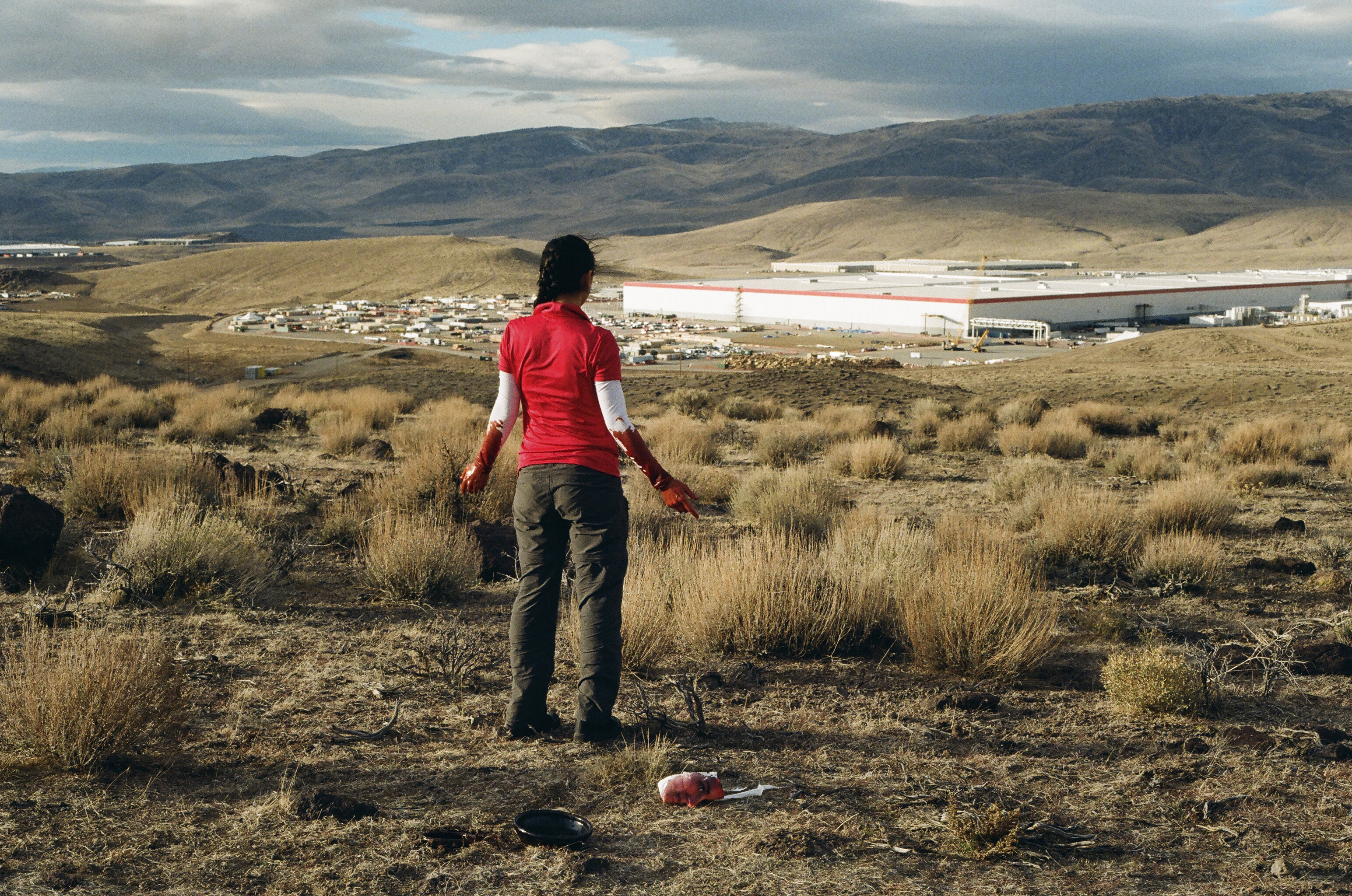 Building a large blood battery in front of the Tesla Gigafactory in Sparks, Nevada
2018
8m 22s
Director, performer: a.tbd
Producer:
Dan Fethke
Director of Photography:
Olivia Booker
Full video:
https://vimeo.com/313998733
In December 2018, I traveled across country (New York -> Reno) by train carrying a suitcase full of my blood in order to build a large scale blood battery outside the Tesla Gigafactory in Sparks, Nevada. The video is documentation of the performance.

In the video a fictional Tesla worker (a.tbd), assembles a large blood battery outside of the Tesla Gigafactory, noted to be the largest building by footprint in the world. The Gigafactory produces electric batteries for the car company, Tesla. The worker leaves the factory wearing the Time Lady mask-a symbol of the dominant Silicon Valley narrative of the future and technology. The worker walks up to the battery and removes their mask. Buried in the ground at their feet is a pot filled with human blood.

They soak a white cloth in the blood, and place the cloth in between the large copper and zinc metal plates. They then connect the battery to a small mechanical finger, which begins to turn.

Finger
2018
Human fingernails, acrylic, motor
15 x 5 x 5 in
Time Lady
2018
3D printed plastic, ink
8 x 6 x 3 in

The mask was created using a neural network (AI) that generates 3D facial maps from a 2D image. The neural net was trained on data from mostly racially white faces, which mirrors the biased process of generating the original Time Lady image.

The original image is of a computer generated mixed race woman, created by Time Magazine, to represent the future face of America. The editors at time created the face by averaging the faces of several persons of different races. The image was featured on the cover of Time Magazine in October 1993 for a special issue called, "The New Face of America."